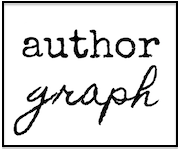 Why yes, I'm autographing my eBooks now. Autographed eBooks are cool. *straightens bow-tie*
A couple of years ago, I discovered an interesting-looking site called Authorgraph, which provides a system for sending digital autographs to your e-reader, presumably to go along with your eBooks.  I told myself that after I published my next book, I'd see if I can work this thing out.  It's not like I have any live book signing sessions planned. (That would mean going outside and … talking to people...!)
Well, the day I published my next book came, and with a little technical help from Evan, the founder, I'm quite pleased to announce that Cliche is now a part of the Authorgraph-able eBook catalogue at no additional cost to you.
Not only will you get a digital representation of my fancy-schmancy autograph (drawn painstakingly with a borrowed graphics tablet); you also have the option of requesting a custom message from me (but be forewarned, I reserve the right to ignore troll requests).
In fact, you can request an authorgraph whether or not you actually bought the eBook.  So if you're one of those people who told me you bought a print copy and tried to make me promise to sign it in the rare chance that we actually cross paths in person, you've just activated my introversion trump card! 😀
And if you're an autograph purist who believes in accumulating tangible items only, you still have the option of ordering an actual, physical autographed copy of Cliche directly from my Ecwid store page for the realistic, realistic price of $18.00. L'Chaim!